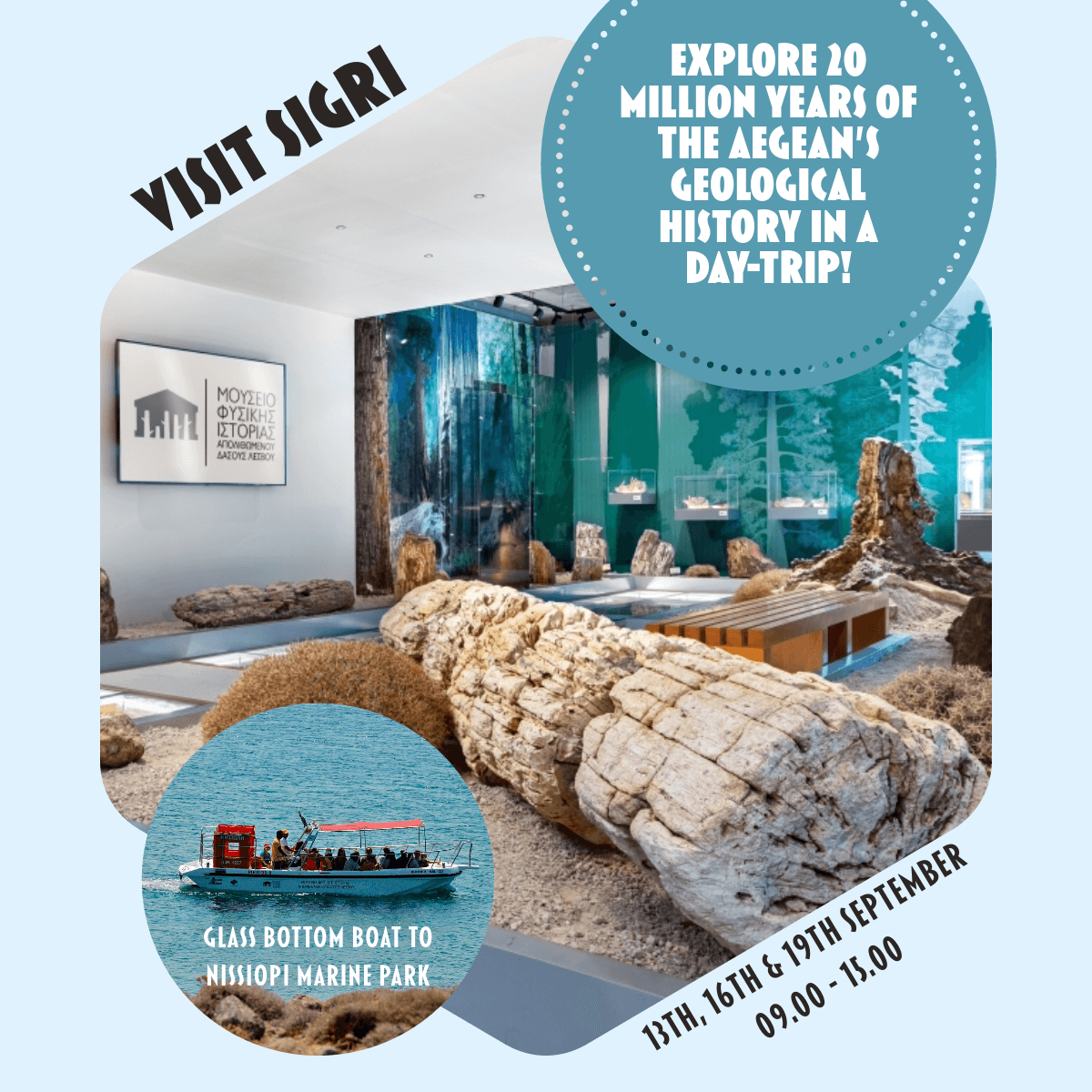 Today's trip takes you to the picturesque fishing village of Sigri, a village well known for its Petrified Forest Museum, its shallow beach, and its newly built ferry port.
Sigri is nestled on the farthest western tip of Lesvos Island, and has a rich history and natural allure. Its name, derived from the Venetian 'siguro,' meaning 'safe,' pays homage to the sheltered harbour it boasts. The village's 1746 Turkish castle, a relic from Ottoman times, offers a vantage point over the bay and the protective island of Nissiopi, buffering against prevailing winds. 
The Natural History Museum of the Lesvos Petrified Forest was founded in 1994 and has over the years become a hub of study, conservation, and education about the globally renowned petrified forest of Lesvos. With two permanent halls, the museum takes visitors on a journey through the evolution of plant life, showcasing fossils and over forty plant species. The second hall explores Aegean geological history over the past 20 million years, including volcanic activity and extinct primates. A seismic simulator educates visitors about earthquakes.
The museum's impact goes beyond its walls, contributing to the cultural and economic growth of the region through conferences, exhibitions, and educational programs. Collaborations with UNESCO's Global Geoparks Network and other institutions further amplify its influence.
Today's trip includes the mini-bus fare, entrance into the museum, as well as a truly unique journey with a glass bottom boat to the marine park of Nissiopi, the first marine fossil park in Greece. Good walking shoes are recommended for the visit to the Nissiopi islet.
The mini-bus journey starts from Skala Eressos at 09.00am, and arrival at Sigri is approximately at 09.30am. You will have plenty of time for a swim at Sigri beach, breakfast and lunch at one of the lovely tavernas. 
Discovering Sigri village and its Lesvos Petrified Forest, a unique natural monument, is an unforgettable experience that you won't want to miss. 
Note that the prices will be published shortly.