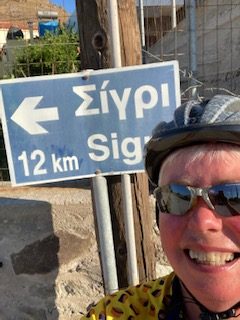 Meeting Point: Bus Stop at Main Car Park
Join Rosie and Rebecca on this spectacular cycle across the old mountain road between Eressos and the picturesque seaside village of Sigri. Not for the faint hearted, this trail is tough! The road is rough, the climbs and descents are long, but the scenery is breathtaking. The signpost at the start says the distance is 12km. We will make a reasonably early start to avoid cycling during the hottest part of the day, and arrive in Sigri for coffee and a snack.
When we get back to Eressos it's just a short climb up to the village square for a well-earned lunch in one of the tavernas.
Start time: assemble in the Skala Eressos village car park (the one with the bus stop) at 08:30. Arrive in Sigri sometime around 10.30/11 for refuelling. Set off for return journey and arrive back in Eressos for lunch. Return bikes to bike shop in Skala.
Please call in to Sappho Travel Office to sign up for this event BEFORE 2.30pm on Thursday 16th Sept.
You will need to take responsibility for collecting and paying for your bike no later than 8pm Thursday evening. Bikes must be returned Friday evening unless you've made other arrangements. Bike hire for the day costs €8. You will pay for your own snacks and lunch.
A good level of fitness and cycling proficiency is necessary to enjoy this trip.
If you're able to bring a cycle helmet, that would be very helpful, they're difficult to come by here. If not, we will try and source one for you.