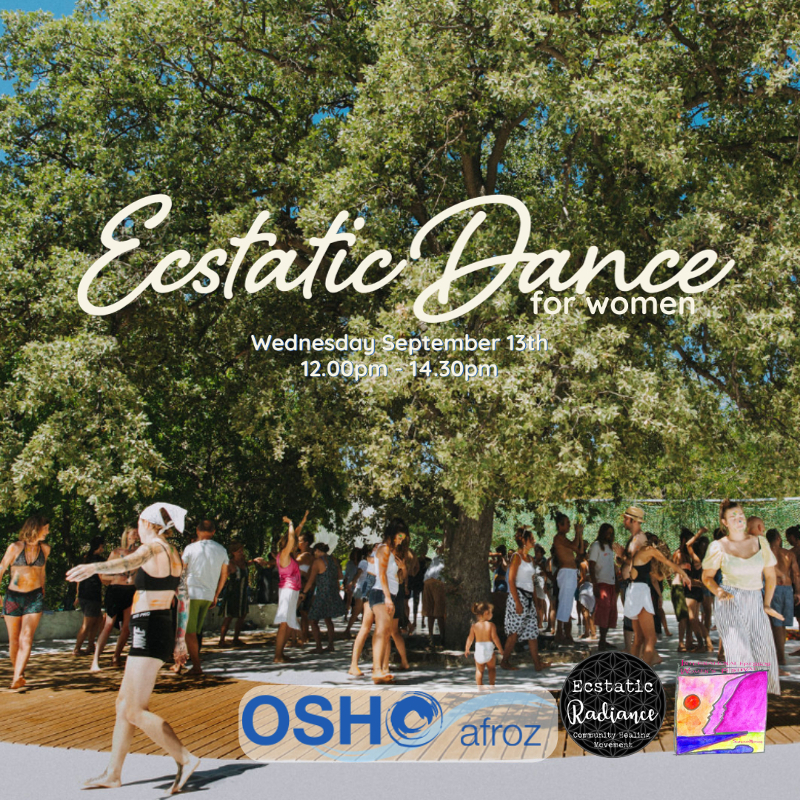 Ecstatic Radiance
Osho Afroz Meditation Centre
Ecstatic dance, originating from ancestral times, is a liberating, joyous, and empowering practice that allows individuals to express themselves freely through movement. It creates a sacred space where participants can engage in a non-judgemental, mindful, and cathartic dance experience.
"Dance, when there's no dancer. A state of meditation, of ecstasy, a liberation from ego, a freedom from the doer." – Osho
First-time participants often describe the experience as transformative, even comparing it to spiritual journeys such as Ayahuasca. The power of ecstatic dance lies in its ability to trigger profound personal realisations and emotional release. It is about being wild, having fun, and truly being oneself.
Ecstatic Dance for women at OSHO Afroz, from Ecstatic Radiance
Join us at the OSHO Afroz open-air Buddha Grove – an open marble circle shaded by an ancient oak tree – for a gathering where the dance will be the vehicle, and where ecstasy will be the reason to drop habits, take masks off, and allow authenticity to shine.
Offered to you by Ecstatic Radiance, this will be a ultimate dance experience that encourages women to feel the love and embrace their authentic selves, allowing the simple joy of being to guide us in a celebration where everything has a reason and everything is allowed.
We envision that in this gathering dance becomes an instrument of personal and spiritual growth: for life, for connection, for creative expression of body, mind and spirit, in harmony with Existence.
OSHO Afroz Meditation Center
OSHO Afroz is located on the south west coast of the Greek Island of Lesvos near the traditional village of Eressos. It is hidden among the shady olive groves of the Psinia plain and surrounded by impressive volcanic mountains.
OSHO Afroz has countless spaces around its 7 Acre land where you can find domes, a creek, a chillout area and many hidden natural places where you can relax, meditate and play.
Throughout the season, Afroz experiences a multitude of informal and spontaneous creative activities held under the night sky in the Buddha grove or in the gardens. Meditation, inner harmony, dance, celebration and creativity are abundant in OSHO Afroz.
Further information
https://oshoafroz.com/
https://ecstaticdance.gr/
Sign-Up & Participation
Sappho Women will organise free transport for wristband holders to the OSHO Afroz Meditation Center. Transport for non-wristband holders is 6 euro per person. It is of course possible to use your own transport to Afroz as well (walk, bike, car etc.). 
Sign-Up for transport until Monday 11th September 12pm at the Sappho Women office.
Join this joyous and empowering dance experience!