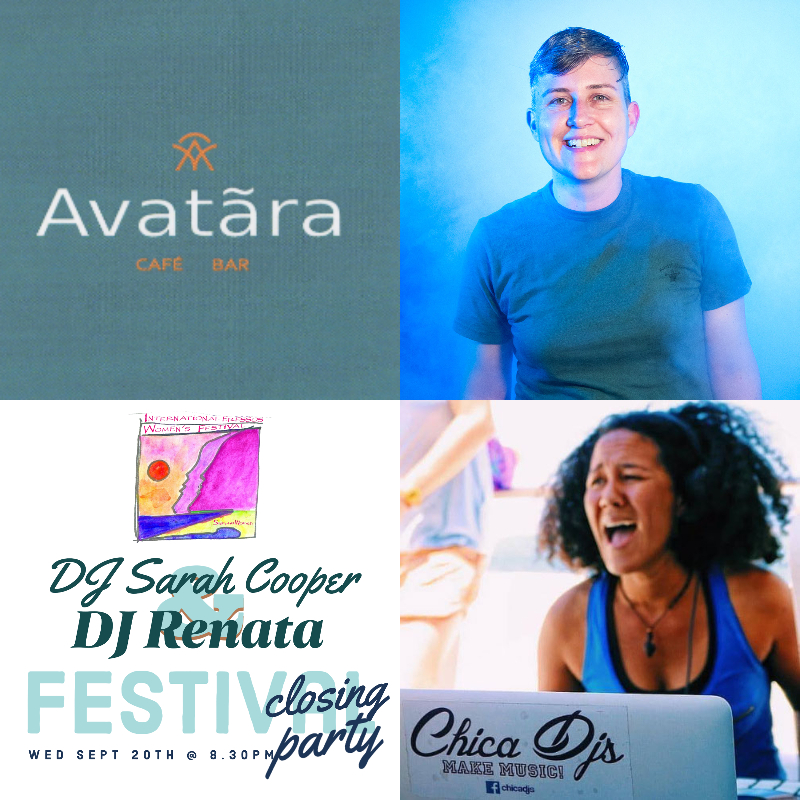 Live Performances & DJ sets
It's time to say our bitterweet goodbye to the Sappho Women's International Eressos Women's Festival 2023, as the closing celebration marks the end of an incredible 10-day journey!
Throughout this remarkable festival, we have celebrated diversity and inclusivity, witnessing the power of women coming together in friendship and empowerment.
As we reach the culmination of this transformative experience, our heartfelt gratitude goes out to all the amazing women who have made it possible. Your contributions have shaped this event into a unique celebration of incredibly talented women. Thank you for making this festival what it is!
The grand finale promises live performances and DJ sets, so join us for one final night of unforgettable memories at the Sappho Women's International Eressos Women's Festival 2023.
Let's make it a spectacular closing!
Avatara Cafe Bar
Vicky, a true business veteran in Skala Eressos, Greece, is the owner and operator of Avatara Cafe Bar. With an impressive track record of successful ventures, spanning 20+yrs, Vicky has previously owned and managed a series of popular establishments here in town, each leaving a mark in the local scene. Some of her past businesses include the bars Fuego, Roots, Agua, as well as her restaurant Vento.
Drawing from her wealth of experience and expertise, Vicky has transformed Avatara Cafe Bar into an enchanting venue that boasts one of the most breathtaking vistas of the sea, our imposing rock, and the other charming shops along the beachfront.
The cafe bar has become synonymous with a laid-back and relaxed atmosphere, making it the perfect destination for anyone in search of great food, refreshing drinks, and an overall enjoyable experience.
Throughout the summer season, Vicky arranges an array of live performances and DJs, adding an exciting and dynamic element to the already vibrant ambiance. Whether you're a local or a visitor, you're guaranteed an unforgettable time at Avatara!
Vicky's entrepreneurial journey in Skala Eressos, and her impressive portfolio of businesses, truly make Avatara a must-visit destination in Skala Eressos.
DJ Sarah Cooper
Sarah Cooper hails from the UK but has settled in the sunny south of Spain where she DJs across genres ranging from no nonsense tech house to uplifting, melodic techno via bouncy, un-adulterated disco and classic dance anthems, i.e. a bit of everything!
Sarah is a DJ/Producer on a single-minded mission to indulge her passion for music, and she can usually be found in the studio from morning to night beavering away on her new collection of original electronic music.
She has presented an online radio show at Barricade Radio and has played at various festivals and clubs across Europe.
DJ Renata
A purveyor of deep, infectious dance grooves and a feel-good atmosphere.
Bringing you sexy beats and dark bass. She is a well known figure in the Utrecht underground scene and has been DJ-ing for over 15 years. Her love of music started at 4 years old when she first started making her own mixes on cassette tapes. Music is her favourite way to communicate. Her music style focuses mainly on tech-house club and techno.
"For me, it's all about mood and a deep, hypnotic groove… playing those tracks that get you moving your feet and nodding your head without you realising it, regardless of genre, tempo, style, or release date."
See you on the dance-floor!