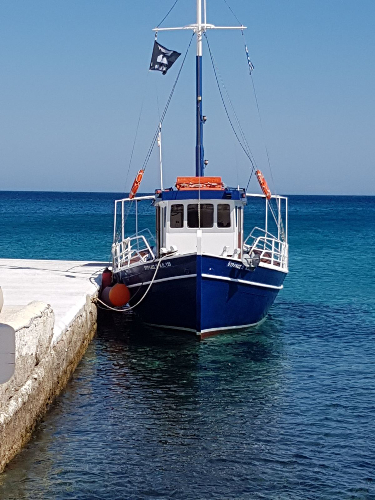 Departure from the jetty in the harbour (pre-booking is required)
Today's full day boat cruise takes you to the picturesque village of Sigri, a village well known for its Petrified Forest Museum, its shallow beach, and its newly built ferry port.
The journey starts from Skala Eressos at 9am and you'll sail along the coastline of the village, giving you incredible views of the beach, as well as the entire valley that stretches on behind it. An early morning view which you'll not easily forget!
Arrival at Sigri is approximately at 10-10.30am. You will have plenty of time for a swim at Sigri beach, and of course a visit to the Petrified Forest Museum! The entrance fee for the Petrified Forest Musem is around 3-5 euro per person.
Included in this day-trip is a group lunch at one of the local taverna's in Sigri, this is scheduled to take place at 13.00pm. Note that drinks are excluded, these should be settled separately and directly at the taverna.
For anyone not familiar with Sigri, we recommend you take a look at what Wikipedia has to say:
https://en.wikipedia.org/wiki/Sigri_(village)
Around 14.30-15.00 the boat sets sail again for return to Skala Eressos. Along the way the captain will make a short stop so you can enjoy a dive off the boat and snorkel in the crystal clear Aegean Sea. Arrival back in Skala Eressos is 16-30-17.00pm latest.
Please bring along with you some snacks for the boat journey, as well swimming gear, including snorkels & flippers, and of course a towel!
Price: 48 euro per person for wristband holders, including lunch (see above). The price is 58 euro per person for non-wristband holders.
Bookings can be made in advance via Sappho Travel. Either pass by their office, or send them an email: contact@sapphotravel.com