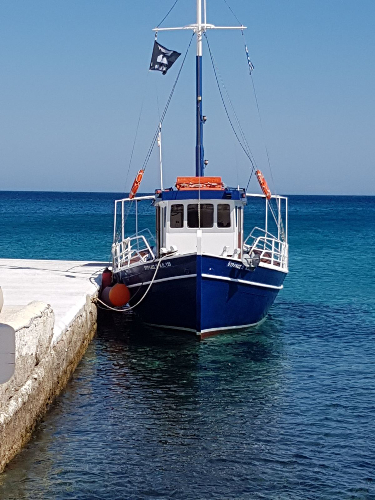 Departure from jetty in harbour (pre-booking required)
SADLY OUR BOAT CRUISE TO PLOMARI HAS BEEN CANCELLED
Today's full day boat cruise takes you to Plomari and the chapel of Panagia Krifti. Plomari is located on the Southern end of Lesvos Island, and well known for its local ouzo production. The town is also the second largest on the island.
The journey starts from Skala Eressos at 9am and you'll sail along the Southern coastline, passing  Tavari, Podaras, as well as the mouth of Kalloni Bay. It is a journey that will really make you appreciate the topography and diversity of the island. Arrival at Plomari is approximately at 10.30-11.00am.
The first stop will be at the chapel of Panagia Krifti, which is quite a sight in itself, particularly as it can only be accessed via the sea. It is very well hidden between the rocky coastal landscape.
After a short visit of the chapel of Panagia Krifti, the captain will take you to Plomari village, where you will have plenty of time for a stroll around the village itself. Plomari has many great little streets and shops, and the captain will be able to recommend a few places to you where you can enjoy your lunch, either as a group, or individually.
For anyone not familiar with Plomari, we recommend you take a look at what Wikipedia has to say:
https://en.wikipedia.org/wiki/Plomari
Around 14.30-15.00 the boat sets sail again for return to Skala Eressos. Along the way the captain will make a short stop so you can enjoy a dive off the boat and snorkel in the crystal clear Aegean Sea. Arrival back in Skala Eressos is 17-30-18.00pm latest.
Please bring along with you some snacks for the boat journey, as well swimming gear, including snorkels & flippers, and of course a towel!
Price: 50 euro per person for wristband holders. The price is 60 euro per person for non-wristband holders. Note that lunch is not included in the price.
Bookings can be made in advance via Sappho Travel. Either pass by their office, or send them an email: contact@sapphotravel.com