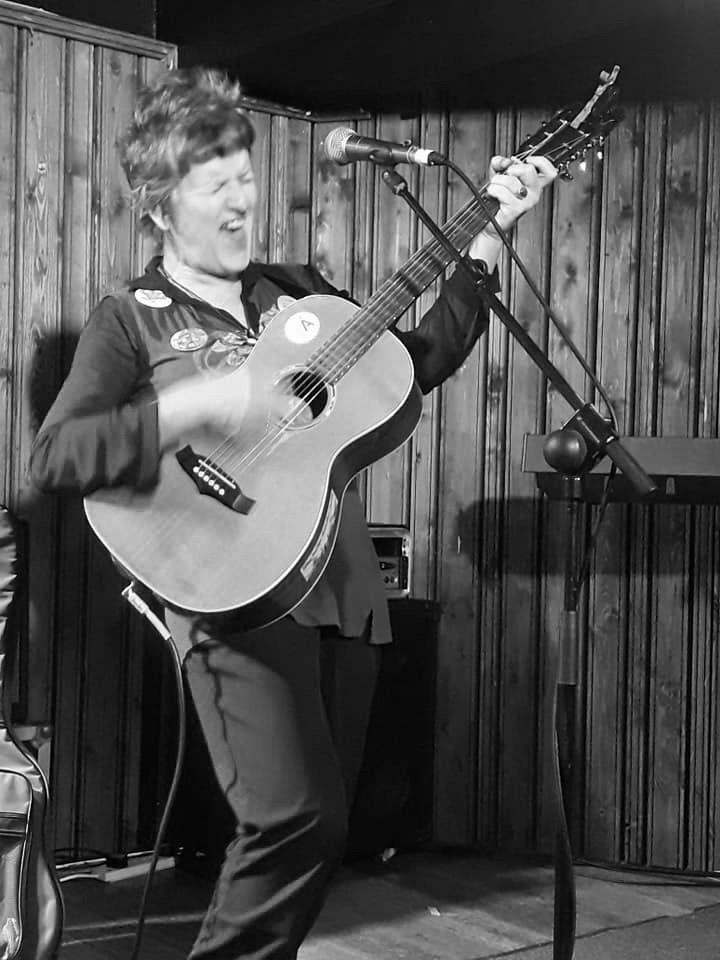 Singer/songwriter/guitarist/ BeRn, calls her stuff 'Frock' – an eloquent mix of folk, punk angst, rock 'n' roll, feminism, ire, laughter and irrepressible spirit. Raw and uplifting, she takes to the stage with a fiery presence offering a heady mix of emotion and rebellion.
"A real colourful individual with her saucy, unusual, punky, spicy, joyful songs"
To date Bern has recorded 3 albums and a new EP, Tales from my Back Pocket, which had a U.S. release in Nashville, TN in March 2019 and an Irish release @ The House Presents in Dublin, Ireland on May 3rd, 2019. She is the founder of the critically acclaimed Eastrogen Rising: a rebel cabaret, and is a core member of the new production Revolting Women: a rebel cabaret, which had a successful 4 night run in The Five Lamps Arts Festival in April, 2019 and an 8 show run @ The Dublin Gay Theatre Festival, The Teachers' Club, May, 2019.
BeRn wrote the title track 'No Star Lesbian" for Outitude: a feature length documentary film, released in August 2018. The Film has shown in Gaze film Fest, Cork Indie Fest, Glasgow Independent Fest, Leeds Indy Film Fest and in Kentucky, USA in May 2019: The video for BeRn's repeal the 8th song 'Pope' was chosen for the Dublin International short film and music video festival in October 2018.
BeRn has opened for Martha Wainwright and Patti Smith in San Francisco, played the Edinburgh Fringe Festival and The Copenhagen Songwriter's Festival. Plus many venues: bars, pubs, theatres, house concerts and festivals in Ireland and beyond.
BeRn is just back from Nashville, Tennessee, where she played at the iconic Bluebird Cafe.
http://www.bernmusic.ie