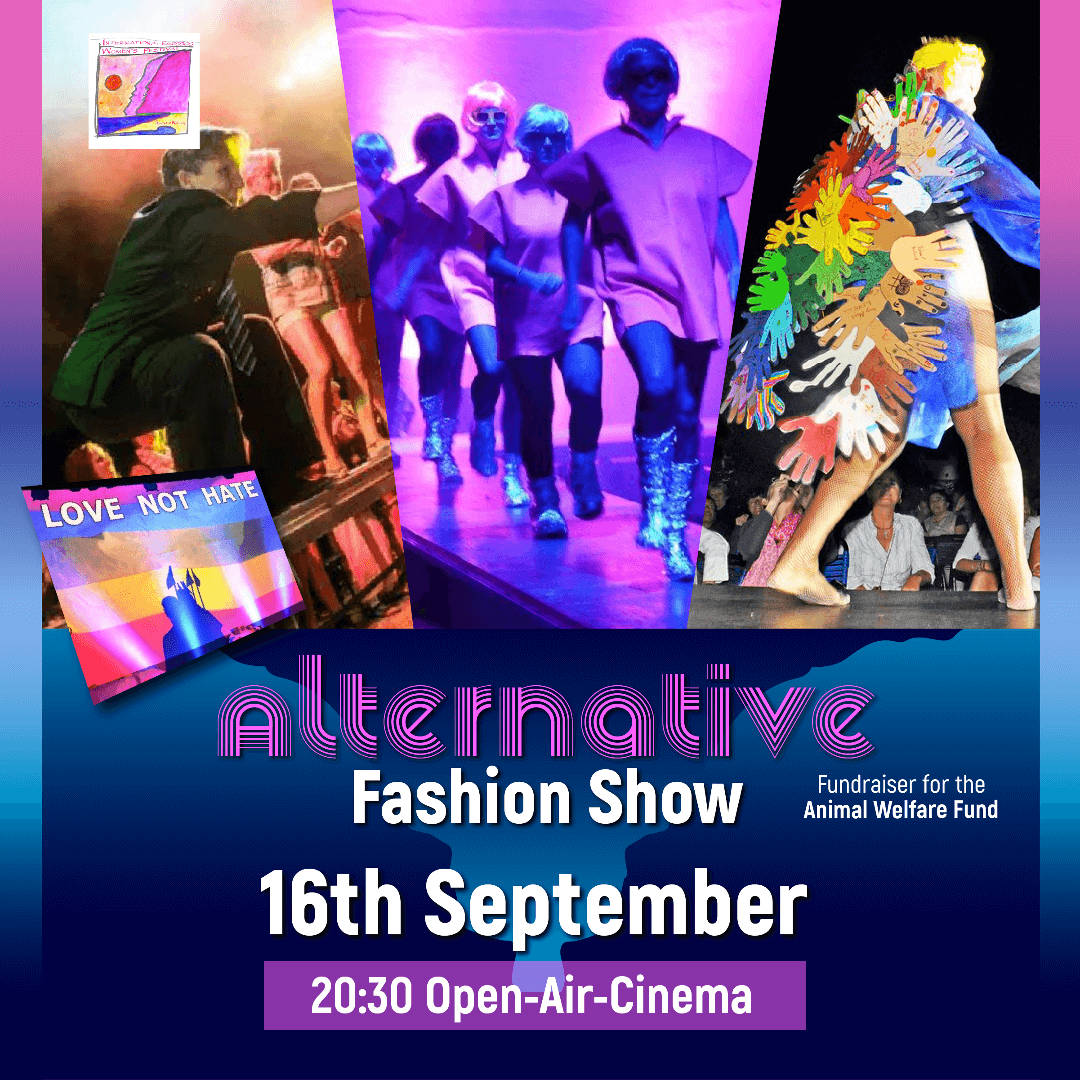 Get Ready for an Unforgettable Night Under the Stars!
Tonight, get ready to be dazzled by an extraordinary Alternative Fashion Show extravaganza at the Open-Air Cinema! This is no ordinary event—it's a celebration of style, talent, and pure joy that will leave you with unforgettable memories! Brace yourself for an evening of excitement, laughter, and entertainment that will keep you on the edge of your seat. You won't want to miss a single moment!
Our Alternative Fashion Show is unlike anything you've seen before. With a touch of camp, a dash of sexy, a whole lot of tongue-in-cheek fun, and a hint of butch energy, our fabulous models are here to entertain you with their incredible performances. Trust us, you're in for a treat! We do things differently, and that's what makes this show so special—it's like nothing you've experienced before, and you're going to love every second of it!
But here's the best part: it's not just an amazing show—it's a chance to make a difference. We are proud to announce that tonight's event is also a heartwarming fundraiser for the Animal Welfare Fund. This vital organisation works tirelessly to provide food, shelter, and life-saving medication to the stray dogs and cats of Skala Eressos. By joining us tonight, you're not only treating yourself to an unforgettable experience but also helping our furry friends in need. What could be more rewarding than that?
And listen closely because this could be your moment to shine too! Yes, you heard it right—you could be one of our fabulous models! Unleash your inner diva, strut your stuff, and add your unique flair to the show. The spotlight is waiting for you, so seize this incredible opportunity!
Ready to be a part of this incredible night? Don't hesitate! Gather your friends, dress to impress, and make your way to the Open-Air Cinema. It's going to be an absolute cracker of an evening, and you won't want to miss a single moment!
To participate or find out more, reach out to us via email sara.mcaleese@gmail.com, or connect with Tamsin from the Skala Women's Rock Group, available Monday to Friday from 10:30 AM to 12:00 PM. Your moment to shine awaits!
The excitement starts promptly at 8:30 PM, so arrive early to grab the best seats! Festival wristband holders will have priority access, but with the high expected turnout, make sure you secure your spot early. The doors swing open at 7:30 PM, inviting you to a night of pure magic!
Ps. For those who want to support the Animal Welfare Fund, you can make a donation through their PayPal account: skalarockgroup@aol.com. Your support and generosity mean the world to us!
Thank you all for being a part of this incredible event. Together, we'll make tonight a night to remember, all while making a difference in the lives of our furry companions. See you under the stars!