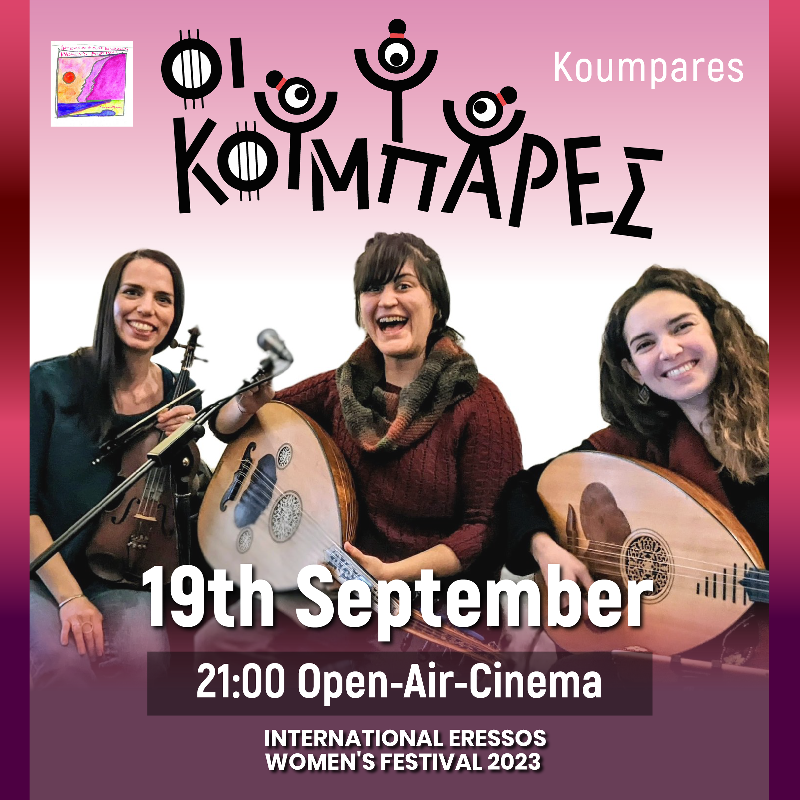 The Koumpares - Οι «Κουμπάρες»
On the 19th of September, we warmly welcome the Koumpares to the International Eressos Women's Festival for a Greek experience of culture and music.
The 'Koumpares' is a group based in Athens, consisting of three talented members:
Antigoni Stappa – lute / vocals
Eleni Kokkala – oud / vocals
Irini Nikolakopoulou – violin
Eleni, Irini, and Antigoni came together musically at the Athens downtown hangouts in 2016, sharing their thoughts and songs, and ended up forming a very close friendship. Since then, they have been playing traditional songs from various regions of Greece on many occasions.
In 2017, their journey took them to Tanzania, where they performed at the invitation of the Greek community, marking a significant milestone for the group.
The group's mission is to study and embrace a variety of traditional songs and melodies, bringing them to life through vibrant live performances often infused with the joy of celebration through traditional dances. This year, they made appearances on radio shows such as 'The Tree of Music' and 'Hologram,' further showcasing their musical prowess and dedication to preserving Greek musical heritage.
Join us on the 19th of September at the International Eressos Women's Festival, where the Koumpares will grace the open-air cinema stage with their incredible talent and captivating traditional melodies. Don't miss the chance to join in Greek dancing, as it will be enthusiastically encouraged to fully immerse ourselves in the vibrant atmosphere and spirit of Greek culture!