The Eressos International Women's Festival is a two-week holiday in a village where every event is put on by women, and for women. The annual holiday started in 2000 and the concept was a simple one and it remains a simple one: To bring women from all over the world together in the birthplace of 'lesbian culture' in order to celebrates women who love women.
This is not a festival where you camp at a venue for a few days, watch some acts and leave. It is Greek island holiday where you will make friends for life and end up coming back every summer.
The Festival was founded in 2000 by local travel agency Sappho Travel and it became a non-profit organization Sappho Women in 2010. And so the idea was born and every year more events were added.
The entire 14 days are packed with so many things to do. There are loads of parties, live bands, DJs and dinners. There are arts and craft workshops, sports events, yoga, Greek dancing, walks into nature, beach volleyball and daily swims to The Rock. Or you can come, lie in the warm sun, swim in the crystal clear Aegean Sea, pamper yourself with a massage and eat the fresh local produce.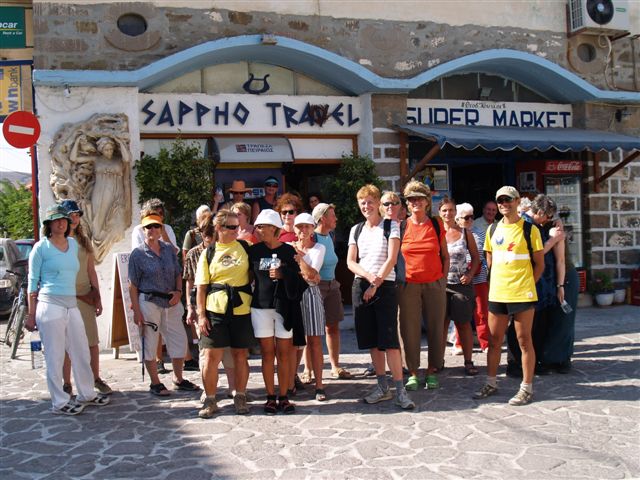 The Festival is a community-driven one. A core team of Sappho Women runs the logistics. We operate out of the office of local travel agency Sappho Travel. Come and find us here during the festival or visit the information desk.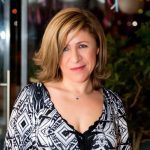 Joanna Savva
Joanna Savva is the director of Sappho Women, and a dynamo with a purpose. You will find her in her office at the center of the village, or spot her on stage at the opening night, presenting the Alternative Fashion Show or dancing the night away in one of the bars. Joanna has worked to bring visitors to her hometown of Skala Eressos for two decades. She is the owner of local specialist travel agency Sappho Travel as well as Sappho Estate Agency and her vibrant office is the go-to for all visitors to the village.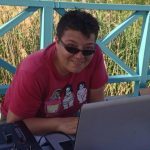 Wendy Jansen
Wendy Jansen is the president of Sappho Women, and has been "chief volunteer" since 2004. She acts in an advisory capacity to further the organization's mission. Wendy runs the Sappho Travel agency and she is your go-to for any travel and accommodation questions. She will organize your flights, transfers and accommodation. Wendy also manages all the bigger outings and excursions like the Boat Trips and island 4x4 excursions. You can find her in the Sappho Travel office by day, or DJing at one of the local bars by night.
Sarah Bullen
Sarah is the Festival logistics and marketing coordinator. She makes sure everything runs smoothly and nobody gets arrested. She is journalist and magazine editor. If you want to run a workshop, perform or put on an event, please get hold of her.
Geri Maguire
Geri is a festival veteran and this year she is volunteer coordinator. This may involve herding them off the dance floor in the early morning hours to clean up after a party. If you want to find out about volunteering please contact Geri.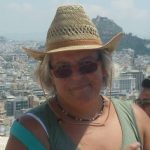 Pam Crosbie
Pam is a village local and she heads up our information desk. You can ask her about anything. She will also do the bookings for all the fantastic events during the festival. If she's not on the desk one of her team will be there.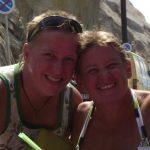 Tamsin & Faye
Tamsin Morris and Faye Rickett run the daily summer Skala Women's Rock Group and gently support all women to take the plunge and swim to the Rock. They also organize the Sappho Alternative Fashion Show, which has become a world-class, off-the- wall show that takes place during the Festival.