DIVAs and Transgender Shakespeare in Eressos

A UK theatre company is bringing the Tempest to the island of Lesbos this summer. DIVA magazine interviewed director Sue Frumin.

DIVA: Can you tell us a little about the Women's Festival and the intellectual and cultural history of Lesbos?
Sue Frumin: The Women's Festival at Skala Eressos has been running for over 20 years. It has hosted a wide range of international performers and has been a platform for musicians, theatre, visual arts and culture which also includes local people. This year the Festival is hosting two large theatrical events as well as cinema, art, music, poetry, volleyball, yoga drag-king presentations, workshops and the ever popular "Alternative Fashion Show". It is also a fantastic place to explore nature and there are boat trips and nature walks planned as part of the festival. Because Skala Eresssos is so small the whole community is involved in making it a fabulous event for women and trans people over the two weeks. For some this is swimming and relaxing whereas for others it is visiting bars and dancing in the open air under the stars. Whatever you want you can find it and there is unlimited sea, sunshine and surprises.
Lesbos has a rich cultural history which dates back to pre-Neolithic times. There were many poets and writers who lived on Lesbos the most notable of whom was Sappho who was born at Eressos in 625BC. However, it was named Lesvos after a God who held that name and early residents worshipped Cybele, the great mother-goddess of Anatolia.  Aristotle lived on Lesbos for about three years and studied Zoology while Terpander invented the seven note musical scale for the lyre. Even the airport at Mytilini is named after a poet (Odysseas Elyitis). There is no doubt today that Lesbos is an incredibly creative place. Its nature is inspiring, the light is beautiful and many of the lesbians who have gone to Lesbos have stayed to pursue artistic studies. It is a cultural island and everywhere there is music of all kinds particularly Greek music which expresses humour, love, tragedy and joy.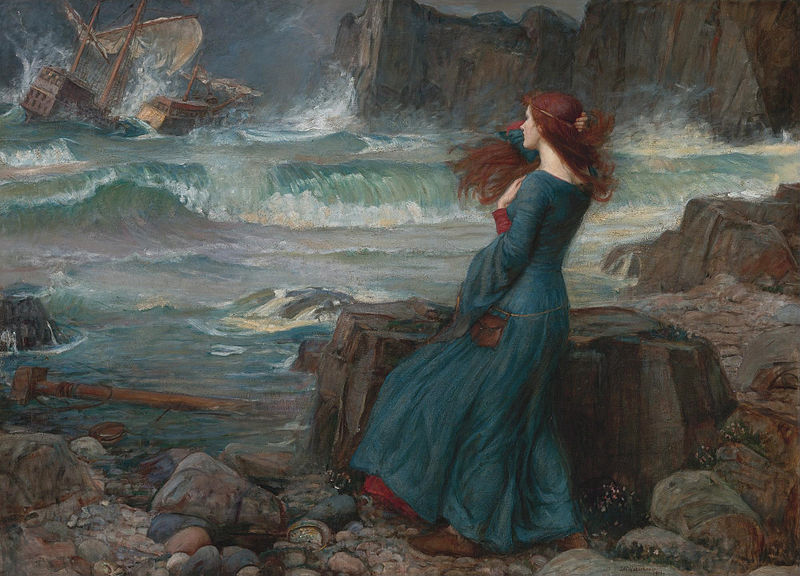 Miranda – The Tempest, painting by John William Waterhouse.
The character of Caliban often stirs up debate about colonisation and ownership. The island of Lesbos has also been a stomping ground for different civilisations for centuries, and is currently in the midst of the refugee crisis. Does that factor into your production?
I originally wanted Caliban to be played by a sensitive Danish Actor called Lisbeth who performed some of Caliban's speech in a presentation I gave last year but she's not available. I want it to be different to how Caliban is normally portrayed so that Caliban is more vulnerable and less savage so that the bullying by Prospero is more obvious.  The questions of colonisation and ownership are scattered throughout the play.  As they are throughout the island of Lesbos. The refugee crisis will be a feature but I'm not sure how. I tried to visit refugee camps in April but since Turkey and Greece stopped the refugees getting to the island from March 20 there is very little access to them. They are in two main refugee camps Moria and Kara Tepe and are trapped in these places waiting to be processed. The residents of Lesbos were amazing to them and treated them well but now NGO's have taken over and you have to have a special permit to visit them.
 What about the theatre company, Sea-Change? Is the name making a point that you want to see more women in Shakespeare?
The name comes from one of Ariel's songs but fits well with the notion of women performing Shakespeare. Phyllida Lloyd in the UK and Lisa Wolpe in the US have created productions using all women casts and Maxine Peake recently played Hamlet. I think we should reclaim the stage and that in itself is a Sea-Change in expectation of who will play the major parts in Shakespeare which have traditionally belonged to men. 
Lesbos is, of course, the island that gave us Sappho. Will there be a nod to Sappho in your production?
I'm not sure. I'm trying to get three local women to play three muses who give a commentary in Greek so that the Greek people can understand it.
What made you choose The Tempest? Was it just the island setting or is there more to your choice?
It is my favourite Shakespeare play and there is so much talk about the beautiful island that it fitted very well. It also has themes in it that are relevant such as two people who get drunk and make a mess of things and whole discourses about who owns the island. Then there's also the theme of love and everyone loves a good love story.
You're presenting the Tempest with an all-female cast and there are lots of ways in which that can be done. Can you tell us about working that into the original text where Miranda is the only woman? Are the parts changed to be female or have you cast women as men?
I attended a transgender Shakespeare workshop with Lisa Wolpe in London last summer and all the women played men and the men played women. It was very revealing and exciting and really showed how women could play Shakespearean male parts very well.  Women will play the men and I think that makes a point in itself which is quite powerful.
 Read the DIVA article here
Help bring The Tempest to Lesbos and pledge what you can at crowdfunder.co.uk/sea-change-theatre-company-at-eressos
Are you keeping the original Shakespeare or have you updated the language?
I am keeping some of the original Shakespearean text but editing it so that it is only an hour or an hour and a half long. I'm working from a shortened version and the long version. I have to make it understandable and interesting or everyone will nip off to the bars. For a lot of women at the festival English is not their first language so I have to bear that in mind. It's also a Promenade Performance and we don't want to lose our travelling audience along the way.
The cast is from a mix of different backgrounds. How did you come to that decision?
It wasn't a conscious decision. I met Valia from Eressos when I was there in April and she runs a small theatre company there. She has a strong theatrical background and I wanted to have her involved as soon as I met her. A lot of the members of the cast and the musical director have applied either online or I know them personally. I met Cezanne Tegelberg when I was there is May last year and talked to her about it and she said she was interested so it's a mix of people with different skills and ideas. I'm still looking for a Miranda and a Ferdinand. They are the hardest to find. I'm sure they will materialise by September as if by magic!
Ariel is an interesting character because of the ambiguity associated with their gender and physicality, and many adaptations of The Tempest have played on this in interesting ways. What can we expect from your Ariel?
I don't know yet – I think that will come out in rehearsals. I think Ariel will be a mixture of light and spirit. I want to find a way of having Ariel appear on top of the rock in the sea but that might be a lighting effect and someone shouting through a megaphone. There's a great technician who lives at Eressos called Mike – men are welcome to contribute to the production but can't be performers in this. I'm hoping he will have some ideas.
You're currently crowdfunding for the production. Can you tell us a bit about what that's been like so far?
Crowdfunding is my least favourite job. I love the creative side but raising money is a hard task. I have raised probably 10% of what I need so it's difficult. I'm trying to raise money to get the cast out there plus a designer, a director and a musical director and accommodate them in somewhere quiet and comfortable for two weeks. The people who have given have been extremely generous and I'm grateful for their support but I could do with a whole lot more. I've been extremely lucky in that the cast have agreed to waive their fees as have the director, designer, musical director, web designer and others who are involved. It's a tremendous challenge but I'm hoping it will be a great success!