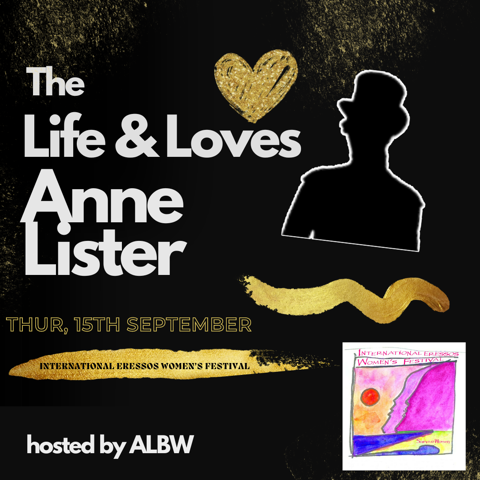 Team ALBW & Diva Destinations
THE "LIFE & LOVES" OF ANNE LISTER – Widely acclaimed as "the first modern lesbian"; Anne Lister was brilliantly portrayed and brought to life by Suranne Jones in the BBC TV series, Gentleman Jack. This evening is presented by Team ALBW, organisers of the Anne Lister Birthday Week, a fantastic event taking place in Halifax from 29th March – 4th April 2023. For information about this week, please visit:
https://annelisterbirthdayweek.com/
We will be screening the fascinating documentary "FIT FOR ANOTHER WORLD": The Legacy of Anne Lister, produced by pupils of the Anne Lister College, the first of the University of York's colleges – named not only after a woman but someone who was part of the LGBTQ+ community.
The film documents the life and legacy of this remarkable and legendary 18th Century lesbian diarist and her untold connection to York. Through exclusive interviews with experts in the Lister-field, Sally Wainwright, Helena Whitbread, Anne Choma, Prof. Laurie Shannon + many more, the documentary will give you an insight into Anne's life in York and its surrounding areas, and why the naming of the new college is incredibly important to so many.
Has Gentleman Jack/Anne Lister changed your life?
We would love to hear from you if your life has changed since learning about Anne Lister or watching Gentleman Jack. Maybe it's a coming out story or its' helped you to fully embrace your identity and or you've found confidence in profound ways?
Evening finale – Anne Lister Blind Date: A fun half hour – Will Anne Lister find her perfect Ann Walker? We need an Anne Lister & 3 Ann Walkers to take part to see which Ann Walker will be chosen by our very own Anne Lister.
Contact us:
Please complete our form to take part in Blind Date or to tell us your story of how Anne Lister / Gentleman Jack has changed your life. https://www.cognitoforms.com/DivaDestinations2/Lesvos2022TheLifeLovesOfAnneListerEvening
OR email jen@albweek.com for further information