When:
11th September 2018 @ 9:00 pm – 10:30 pm
Europe/Athens Timezone
2018-09-11T21:00:00+03:00
2018-09-11T22:30:00+03:00
Where:
Cine Sappho Magicnights

Contact:
Marleen Baerveldt / Travel Women
+31302317272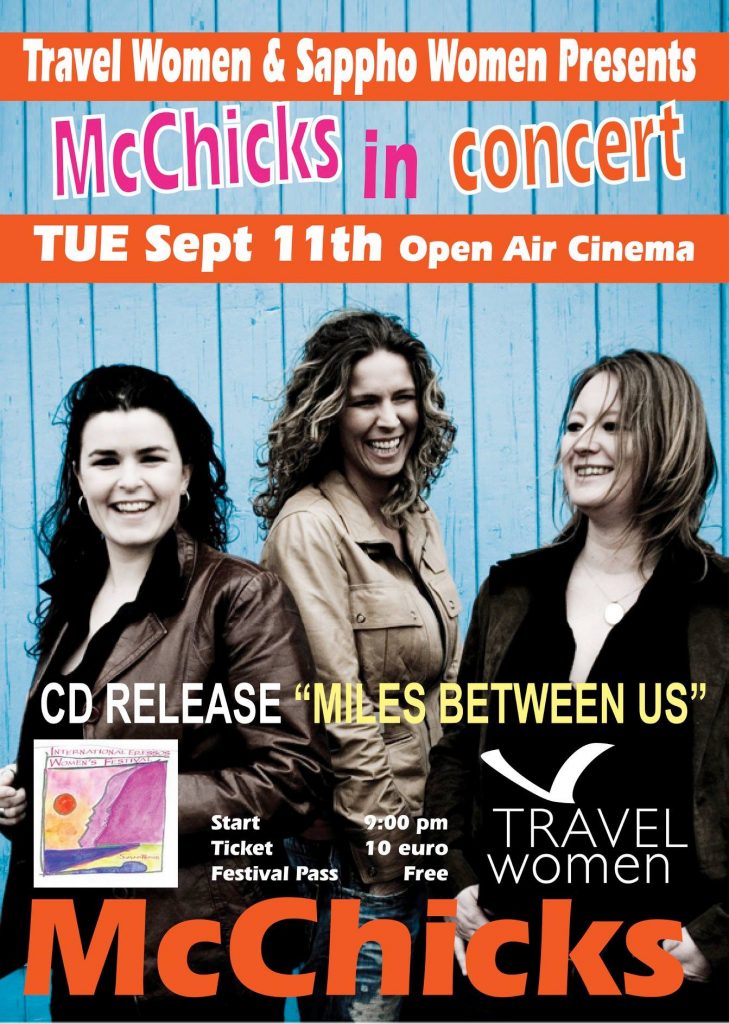 The McChicks Return!

Unique Amsterdam-based pop-trio the McChicks have been touring the world as musicians with some of the most renowned artists on the pop, jazz and theatre scene from the Netherlands.
They have each enjoyed huge success as solo artists; Rated as the drummer/singer most seen on television, Tessa Boomkamp regularly plays in the band of 'The Voice' in Holland; Phaedra Kwant was chosen as this year's 'Best Jazz/fusion bassist of the Benelux'; and Astrid Akse is considered by many to have one of the most funky guitar grooves imaginable.
In 2009 they got together as the McChicks and released their first album. Outstanding instrumentalists and fantastic vocalists, the McChicks bring an inspiring energy to their live performances – a stylish combination of their own wonderful compositions coupled with a few well chosen cover arrangements, all performed with their own exclusive sound. Soft and touching like angels or grooving and rocking like hell: it's the McChicks! A real must-hear.
www.facebook.com/mcchicksmusic
www.twitter.com/mcchicksmusic