When:
7th September 2019 @ 9:00 pm – 8th September 2019 @ 2:00 am
Europe/Athens Timezone
2019-09-07T21:00:00+03:00
2019-09-08T02:00:00+03:00
Where:
Cine Sappho Magicnights

Opening Night Extraveganza
What A Treat We Have For You This Year!
Compere For The Night: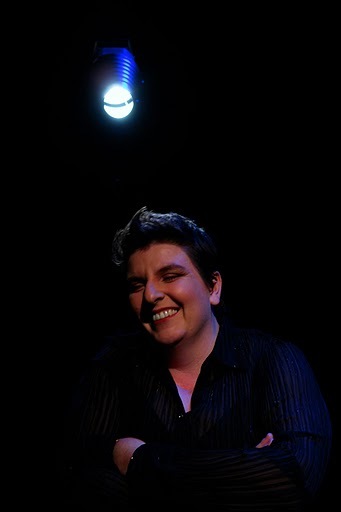 Nicky Mitchell
The inimitable Nicky Mitchell is returning to Skala Eressos in 2019!
Nicky Mitchell can best be described as International Jazz chanteuse, Blues shouter, Guitarist, Pianist, Funny Lady and Entertainer. Nicky performs all over Europe as well as in the UK. She has worked alongside top name acts such as Dana Gillespie, Taka Boom, Eugene 'Hideaway' Bridges, Lea De Laria, Jo Brand and Jenny Éclair.
She has performed to all kinds of audiences, in and on all sorts of stages and arenas, from carnival floats to two thousand seater theatres.
'Warm, funny and immensely talented' The Guardian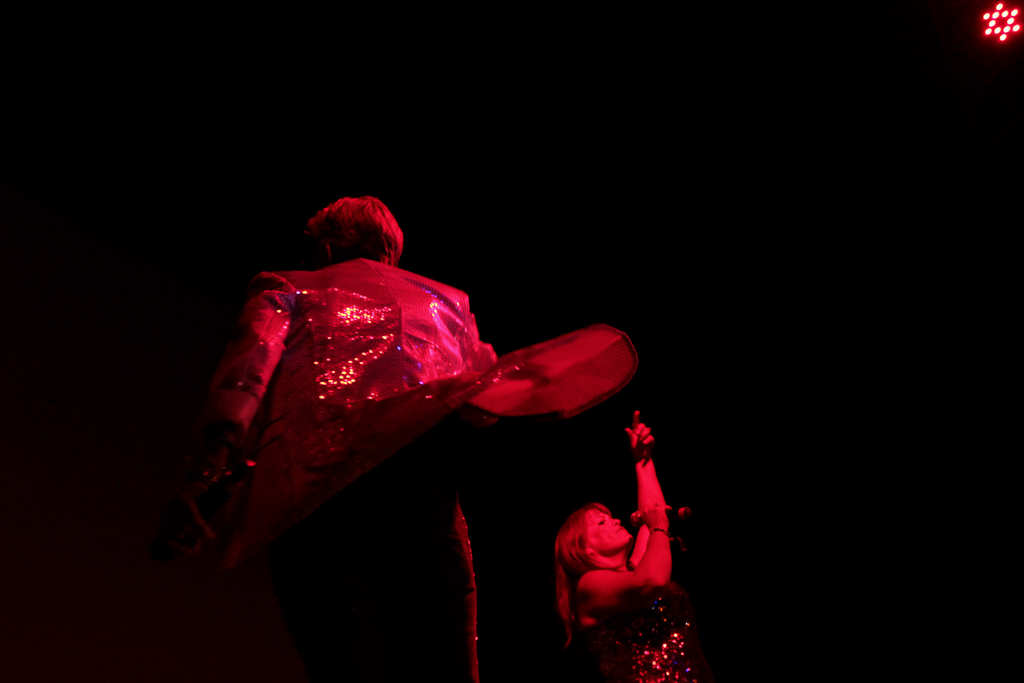 Dick Stubble & Miss Clee-Varge
Jennifer & Sophie of Diva Destinations in Brighton offer you a brand new taster of their popular Drag Kings of Eressos Show, which will take place on the 11th of September.
WANT TO ENTER?
Email Jennifer for an entry form & more information: info@divadestinations.co.uk
Drag Kings Of Eressos Show: Wednesday 11th September @ 21.00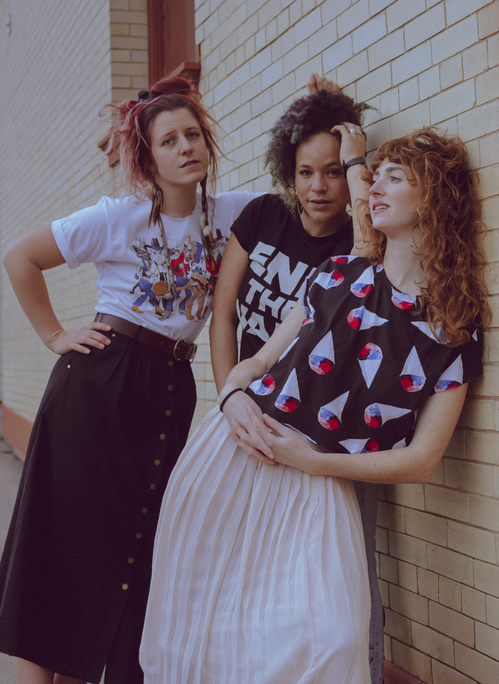 Rainbow Girls (California – USA)
Get ready to have a gang of sweet angels, punch you in the heart!
Erin Chapin, Caitlin Gowdey, and Vanessa May -the dynamic trio known as Rainbow Girls- have emerged as a much-loved live act both abroad and on their California home turf.
Their performance centers the music put forth on their recently released album highlighting their rich harmonies, ageless songwriting, and soulful, bluesy sound in its rawest form.
Full Concert Dates: Monday 9th September @ 21.00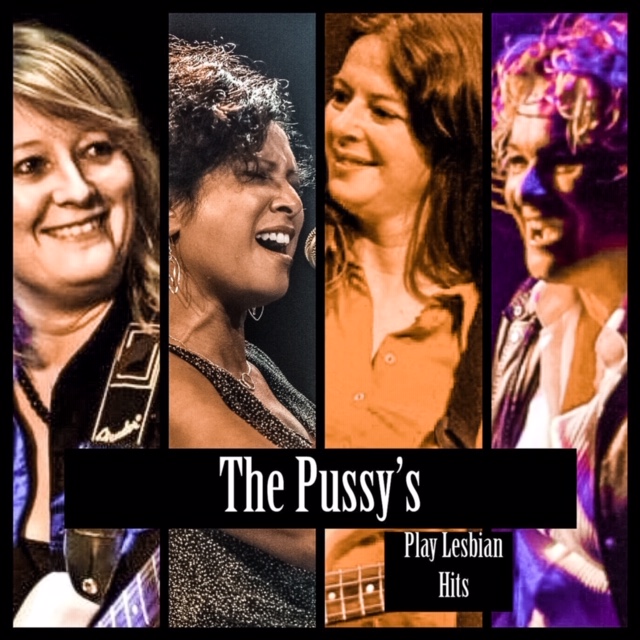 The Pussy's (Netherlands)
We know how to throw a party with big lesbian hits…top quality music with a wink.
DebbiePussy is our lead singer. Her honeydripping voice makes your knees go weak.
MickPussy's deep sound and female touch on the bass will stir up your emotions.
Our IsaPussy's drum skills will shake your foundations.
Assypussy (also a band member of the McChicks) knows how to pull at your heartstrings with her funky guitar sound and great vocal skills.
Full Concert Dates: Tuesday 10th September @ 21.00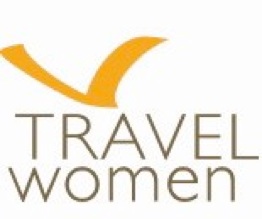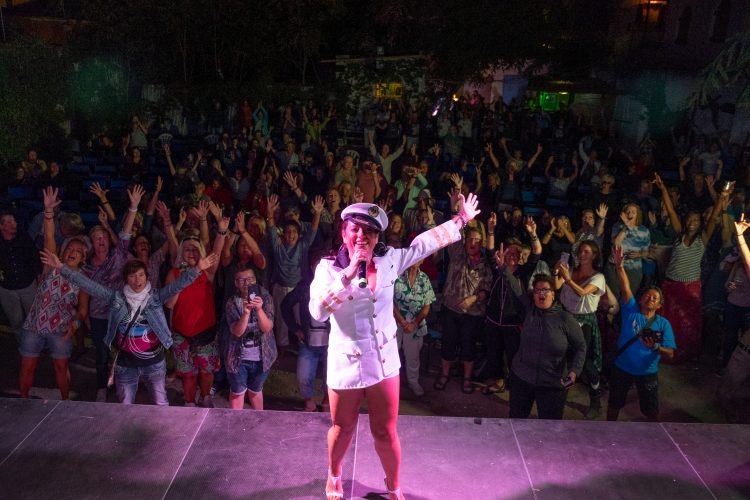 Eva Iglesias (United Kingdom)
After Eva's phenomenal performance at last year's festival, we are delighted to announce that Eva Iglesias will return to Skala Eressos in 2019!
Artists covered:
Aretha Franklin, Whitney Houston, DreamGirls, Beyonce, Adele as well as an extensive selection of hits from the 80's, 90's and today.
Full Concert Dates: Thursday 12th September @ 21.00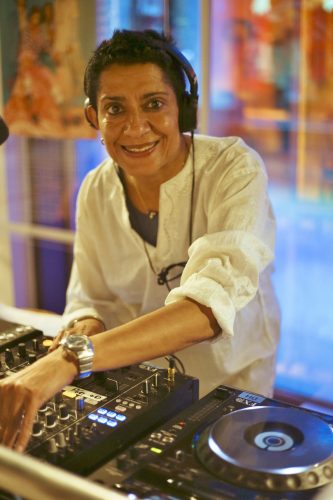 DJ RITU
Award-winning London disc-jockey & trailblazing broadcaster, DJ Ritu, is the voice behind the UK's definitive global music show, A World in London. Her 33 year career includes two decades at the BBC, co-founding cult label Outcaste Records, and touring in over 35 countries as a band-leader and solo artist.
A musical chameleon, Ritu's eclectic repertoire encompasses Pop, soul, disco, as well as 'world' genres, making her a firm favourite at prime venues & festivals like WOMAD, Roskilde, Sfinks, Tate Britain, Spiritland, and The Royal Festival Hall. A Rough Guides CD compiler, Ritu also manages two leading London club nights, is the SOAS Concert Series Producer, a member of the Mayor's London Music Board, and the European World Music Charts panel.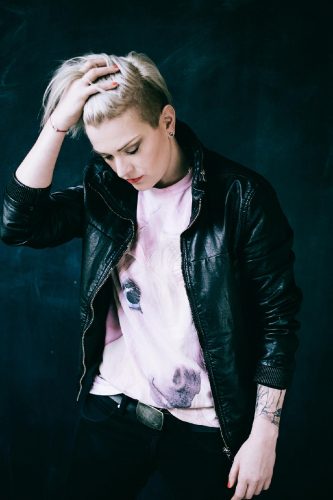 DJ STEFI CHROMA
If you'd try to find a single genre that classifies CHROMA's sound, you'd definitely end up failing. Although this DJ/producer's heart is beating for minimal, she can also easily drop in a 80/90s pop song into her sets, and it's these kinds of exotic, unexpected sounds that merge with bouncy techno and deep house (and all permutations in between) that create an eclectic, yet unified, style.
CHROMA's heart has followed an electronic pulse for quite some time now, having discovered her passion for this kind of music in the mid 90s. She finally dared to step behind the decks herself in 2001, DJing and developing the local scene by organizing parties at OXYT MUSIKCLUB in Lutherstadt, Wittenberg. It was only a matter of time, then, that CHROMA would move to the world capitol of techno: Berlin. With her technical prowess behind the turntables, her well-chosen track selection and her ability to entertain the crowd on a personal level, CHROMA quickly established a name for herself amongst the city's DJ community.