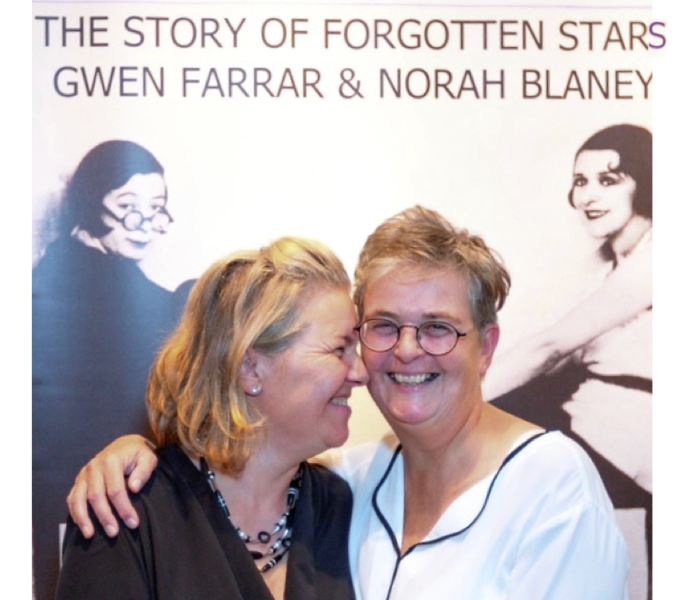 Alison Child & Rosie Wakley
Alison Child and Rosie Wakley have been connected to the Festival since they first met each other here in 2013. In 2016 they performed their semi-autobiographical show, 'Deep in The Heart of Me' at the Open Air Cinema. Rosie has also appeared on the cat walk stage as lounge singer extraordinaire Ronnie Rialto and in 2017 Alison won the coveted title of Drag King of Eressos as her alter-ego Zac Backencrack. Alison and Rosie divide their time between Skala Eressos and Brighton.
Alison and Rosie will give an illustrated talk about the international musical comedy stars Gwen Farrar and Norah Blaney. Household names in the 1920s, Blaney and Farrar shared an onstage double act and an offstage passion.
They performed for royalty and prime ministers, headlined at the London Palladium and on Broadway, and lived together in London's fashionable King's Road. There they entertained such lesbian luminaries as actress Tallulah Bankhead, author Radclyffe Hall and motor boat racer Jo Carstairs. Alison's biography of the pair was shortlisted for the Polari First Book Prize for outstanding LGBTQ literature in 2020 and a limited number of copies of the book will be available at the talk.
Reviews of 'Tell Me I'm Forgiven'
"I adored this lovely, moving story, so well researched, such amazing photos. Lesbian passion-skilfully evoked in the 1920s showbiz milieu. Wish I'd been there!"
Miriam Margolyes, Actor Harry Potter, Call The Midwife
"A perfect match between biographer and subject. Alison Child does this wonderful duo proud."
Diana Souhami, author Gluck, The Trials of Radclyffe Hall, Wild Girls.
"I loved this book, such a thrilling piece of unknown British history and a fascinating addition to the fields of lesbian biography and theatre history."
Eric Page G Scene Magazine
"A fascinating and meticulously researched biography. Child weaves an incredible cast of well-knowns throughout the narrative."
Alison Young in Call Boy the monthly magazine of the British Music Hall Society
"Child celebrates Farrar and Blaney as pioneering lesbians against odds. Her research is punctilious – there are sixty-five illustrations, notes, a bibliography and an index, all at a bargain price." Dr Peter Dickinson Musical Opinion
"Alison Child plunges the reader into the fascinating world of Norah Blaney and Gwen Farrar: English stars of revue and silent screen. It's a story of showbiz chemistry and lesbian love. Historians of sexuality will be grateful to Child – as well as lovers of theatre and cinema. I am very grateful to her for introducing me to these amazing women!" Peter Bradshaw, Guardian Film Critic
"A lively, racy tale of two top-notch celebrities in their day. A vital read for anyone interested in British lesbian history." Jill Gardiner, author From the Closet to the Screen: Women at the Gateways Club, 1945-1985
"A skilfully-researched evocation of a world in which being queer is ordinary, and the story is told in a voice to match. A riveting read. It brings a fascinating perspective to the 20C, reversing so many historical presumptions about what is significant, mainstream and familiar." Professor Sarah Lloyd Director: Everyday Lives in War, First World War Engagement Centre
"A fascinating and moving story, and the depth and detail of the research are awe-inspiring! This book puts an important missing piece into the jigsaw of lesbian history." Dr Jane Traies, author Now You See Me and Liberty
Scotsgay "fabulous"
Fringe Guru "heartbreaking"
The Stage "lovingly crafted"
The Scotsman "fun"
Fringe Review "clever"
Edinburgh Spotlight "charming"
British Theatre Guide "endearing"
Theatre Guide London "a significant piece of lesbian history"
Kaleidoscot "intriguing" "wonderful"