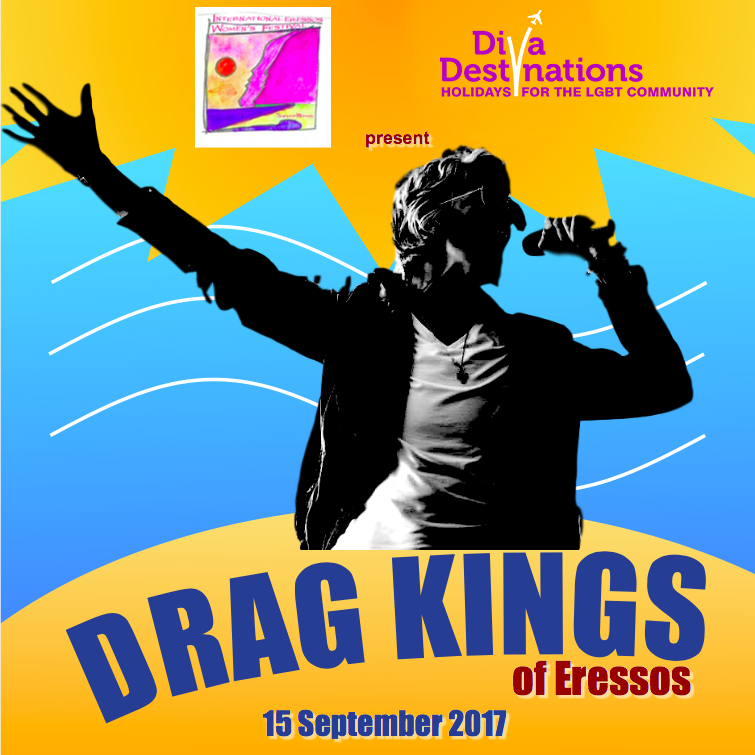 Sappho Women & Diva Destinations are proud to present the 2nd Drag King Competition at the International Eressos Women's Festival
Hosted by George Faithless, a top UK drag artist & 2014 King of the Fringe Winner
Friday 15 September at the Open Air Cinema. Show starts 8.30pm
Have you got an inner Drag King ready to be unleashed?
Have you ever wanted to get on stage and strut your stuff?
Do you have a hidden alter ego?
Or do you just love performing?
Well September is your chance to take to the stage and enter the show. We will take entries via email before the Festival but this is a 'rock and up impress us' show. You need to be at the Festival and ready to show the judges your act in order to make the stage on the night.
It's all about entertainment and having a whole lot of fun.
We asked George Faithless for some tips
I've been dragging all my life, the first time in public was aged 15 in a school production of Grease, I played Danny to my best friend Sandy... except nobody new it was drag in those days."
My very first show was a hit. I stepped onto the stage and let rip. I won King of the Fringe in Brighton and haven't stopped since.
Things can, and do, go wrong on the night. Your packing can slip out of position... not a good look (or maybe it is).
It is always best to use a good glue for your beard rather than drawing it on with make-up - in case it runs. Again not a cool look and it separates the amateurs from the potential pros.
Judges are looking at the full package. But most they are looking for stage presence and charisma. Be sure to make eye contact with your audience. We are looking for someone who can grab the audience but also look like they are having a whole lot of fun themselves.
Make sure you first book your ticket to the Festival and pack your gear. Prepare your act as you are going to have to audition. Then email Jennifer for an entry form & more information Jennifer info@divadestinations.co.uk
Diva Destinations are also hosting a Group Holiday to the Festival. If you are travelling solo, in a couple or with friends join our hosted group holiday to the Lesvos Women's Festival.
Book a Holiday Package
Drop us a line today for a quote for your package.  Direct flights are selling fast so make sure you don't miss out on this year's event.