When:
September 6, 2016 @ 9:00 pm – 10:00 pm
Europe/Athens Timezone
2016-09-06T21:00:00+03:00
2016-09-06T22:00:00+03:00
Where:
Open Air Cinema
Skala Eresou 811 05
Greece
Cost:
10 euro if no wristband
Iconic singer is coming to sing in Eressos at the 2016 Festival.
Horse is one Scotland's most iconic singer/songwriters with personal, original music and she is coming to sing in Eressos as part of the 2016 Festival.
"I've travelled widely through my work but I've never been to Greece before –so performing at this Festival is a bonus then! It's a Greek holiday with song."
Horse's powerful voice often described as a finely honed instrument. Her music is both moving and uplifting. She has opened and toured with several international artists including Tina Turner, BB King, Bryan Ferry, Burt Bacarach. One of her best known songs Careful, was covered by Will Young
She is coming to the Eressos International Women's Festival straight from Edinburgh Festival Fringe.
Horse says that of all the islands of Greece, Lesvos is the one she has long wanted to visit.
"I have of course always aware of Sappho. She is at the very heart of many women's lives although they may not appreciate it. What amazes me about her is that for over two thousand years ago she has had an enormous influence on both men and women. She was greatly admired far and wide and a bit of a 'celebrity'"
It seems that Sapphic Love may not only have been common then possibly but not frowned upon. She was one of the first poets to write biographically around that time - her words deeply passionate and erotic, something I love in writing."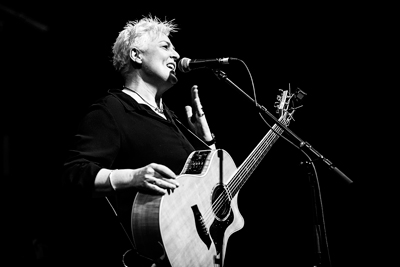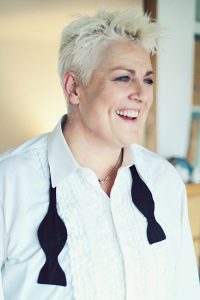 Many of Horse's soaring, powerful songs deal with passion, grief and loss.
She grew up gay in Lanark in the 70s and she says of her childhood, "there are times in life when you need to be careful - when the reward is half a pack of fruit pastilles, when the lady on the train tells you about the doctor you should meet."
'Careful' is the title of her show at this year's Edinburgh Festival Fringe.
We hope to tempt Horse to join the daily swim to The Rock during the festival.
"I adore swimming in the sea (especially lovely if I can find a secret wee cove).
If I have time I'd also like to explore this island a bit. This trip I'd love to visit places where Sappho was reputed to have lived or visited, would be quite thrilling."
"I'm so looking forward to singing for everyone on the island be they 'lesbian' or Lesbian!"
* Horse will do a live concert at the Open Air Cinema on Tuesday 6 June
* She will do sunset acoustic set later in the week, venue to be announced.
Buy your wristbands online and get free access to all the headline events.